Kamala Beach Hotel, PhuketPrincess Kamala Beachfront hotel
Princess Kamala Beach Resort is a tropical paradise for a couple travelers or family travelers with fabulous Thai hospitality. At this Kamala Beach Resort Phuket, you and your family can relax and unwind in a tropical beach resort environment.
Our perfect location is 2 mins walk to the famous Kamala Beach makes us your best choice for those looking to enjoy this wonderful beach to the fullest. We are 10-minute drive to Phuket FantaSea, 5 Minute Drive from Café Del Mar beach club, 20-minute drive from Patong Beach, and 45-minute drive from Phuket International Airport.
While at Kamala Beach, our large swimming pools are also another perfect place to relax for adults and children alike. Sip your favorite drinks at our swim-up pool bar while your children enjoy our pool and its water features. Our main swimming pool is also fully equipped with sunbeds for you to sun tan and read your favorite book. The resort also comes equipped with basic exercise room and kids play room.
Being in the center of Kamala Beach, your dining options are limitless from simple street food to luxurious fine dining restaurant. For those looking to dine in-house, our Kamala restaurant is a Fabulous option serving variety of Thai and International dishes meticulously created by our executive chef.
Kamala Beach Resort/Hotel Facilities

Resort Unique Features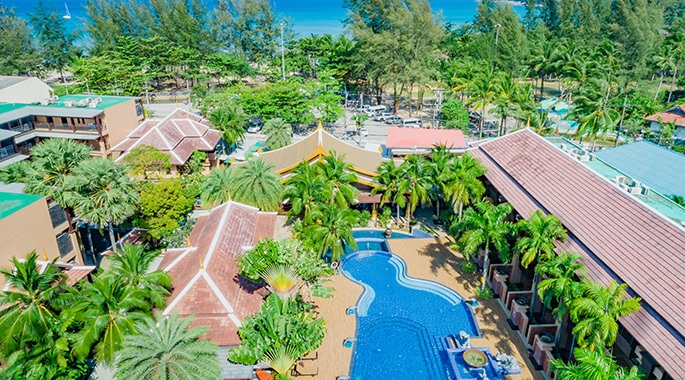 Center of Kamala Beach
Being only 5 minute walk from Kamala Beach makes our Resort perfect for those looking to enjoy Kamala beach to the fullest. We are also within walkable distance to night market, restaurants, spas, and much more. Kamala beach is also in Phuket's central area, which is within easy driving distance from major Phuket attractions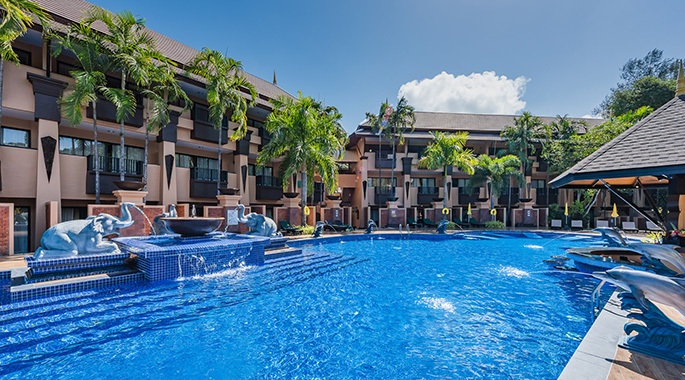 Large Swimming Pool
Our swimming pool is fully equipped with sunbed facilities and swim-up bar. Being in the center of our tropical gardens makes it one of the most relaxing spot in the entire resort perfect for enjoying your favorite book, sun bathe, and sip your favorite cocktails. Our average pool depth is of 1.2-1.5 meters makes it safe for both children and adult.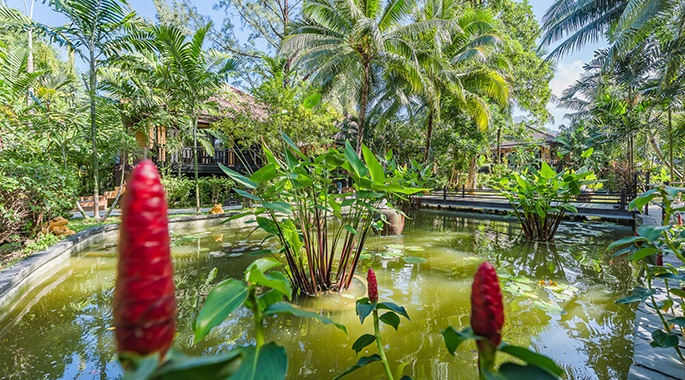 Tropical Setting with a Touch of Thai
Our resort's abundant greenery makes it perfect for those who wants to enjoy a tropical beach holiday. Our grounds are filled with numerous tropical plant species, ponds, and water features. This beautiful tropical setting is also complemented perfectly by our Thai Contemporary architecture, which pays homage to Thailand's rich culture and traditions.
Kamala Beach Resort/Hotel Accommodation and RoomsPopular Rooms
Deluxe Pool Side
Spacious Contemporary Thai style rooms right next to swimming pool and major facilities.
Located on ground floor with easy access to main pool and major resort facilities
Perfect for those who do not prefer stairs and require ground floor access
Tasteful Contemporary Thai Style
Pool Access
Spacious Contemporary Thai style rooms with direct balcony access to swimming pool.
Direct Balcony Access to Swimming pool
Tasteful Contemporary Thai Style
Close walkable distance to Resort Facilities
Garden View Cottage
Low-rise spacious cottage with private patio nestled in tropical gardens
Extra spacious tropical low rise private cottage with your own patio
Tropical garden setting perfect for nature lovers
Tasteful Contemporary Thai Style
Book Direct and Save!Best Deals For Direct Booking Guests
We reward customers who choose to book directly with us on our official website! By booking directly with us instead of though 3rd party booking sites, we are pleased to grant you the best rates and exclusive benefits. Learn More

Best Price Guarantee
Find better rates elsewhere? Send it to us and we will match it!

Early Check In 1PM
Check-In at 1PM compared to standard check in time of 3PM. Subjected to availability.

Complimentary Fruit Platter
Enjoy complimentary welcome seasonal fruit platter at Kamala Restaurant.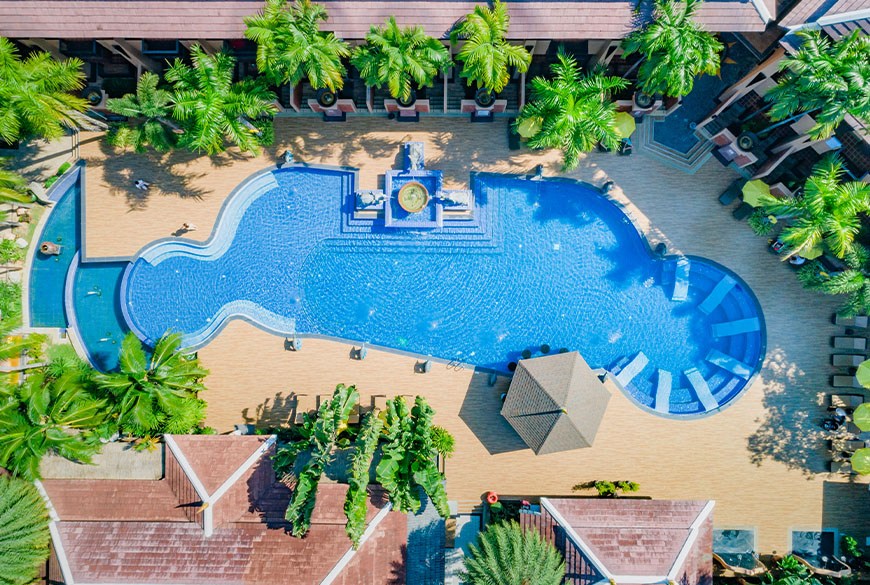 Beautiful Hotel
We stayed for 4 nights, hotel is beautiful, amazing view of the pool from our room, lovely balcony to relax in the afternoon heat. Great location just across from the beach, it was also very reasonably priced. The little details in the room were also fantastic.
Aoife H, March 2020

Short but very pleasant stay
The hotel is nice and clean, the rooms spacious and comfortable. The pool was a nice size and very clean and the location is ideal. Just a minute walk across from the beach and right in the center for all the restaurants and shops.
Eltelsergio, November 2019

Nice private hotel in the middle of everything
Great location, across the street from the beach and is in the heart of Kamala. Hotel is big, private, and discrete. Hotel has a nice swimming pool and free breakfast buffet; the food is good.
Eric, December 2018